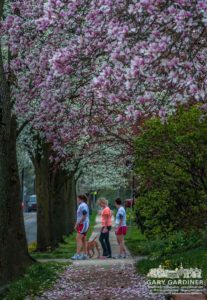 Following the last two days photos of the vibrantly colored trees and flowers at Inniswood and Vine Street I again traveled to Uptown Westerville to where I knew there would be a great overhang of color if I were lucky enough to have students from Otterbein walk under the boughs.
I'd waited for about 20 minutes for someone to use the north side of the street for their travels instead of the south when this trio of students appeared to cross the sidewalk on their way to the other side. I'd seen them coming through the parking lot so I'd prefocused on the section of sidewalk where I anticipated they'd cross.
I was shooting at a relatively narrow depth of field and needed to make my focus accurate. Still, the original is slightly soft through my movement and the focus being just in front of them.
There were three seconds from the time all three appeared at the sidewalk and the moment they moved out of the composition.
Although the sun had just dipped behind a cloud and the threesome's path wasn't exactly where I'd hoped they'd walk, the colors and composition are still successful.