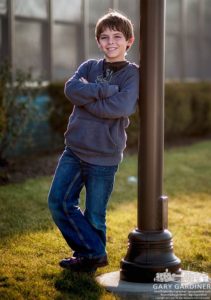 One of my favorite subjects is the nearest and the most agreeable grandchild. That was Owen's task tonight after a fish dinner at St. Paul, and before he left on a road trip with his dad to Florida for Spring Break.
There wasn't much time as they were on a tight schedule with a planned stop in North Carolina for an overnight stay with Owen's uncle Dan and another brief stop in Gainesville, FL before heading to the beach condo.
Truth be know, I was envious. A week on the road stopping to see family, eating at Sonny's in Gainesville, and then a week at the beach.
However, I didn't let that distract me from the job at hand, getting a fresh photo of Owen before he left on the trip. Added the 85mm f1.8 lens to the bag and hoped the light would cooperate and  backgrounds wouldn't be too distracting.
Not my best work but more than enough to keep his grandmother happy.
Wouldn't have been possible without the narrow depth of field of the 85mm f1.8 lens and my daughter's arm used as an extended lens shade to cut the glare.