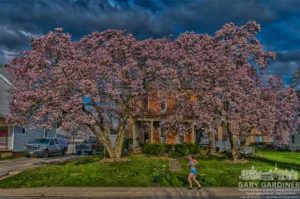 It's that time of year when the colors seem more vibrant than normal. I'm of the opinion that it's an illusion only because we've just left behind the dull tones of winter and any color other than a monotone gray is cause for celebration.
And celebrate, I did.
I spent the better part of an hour on a short stretch of street in Uptown Westerville watching how the light and clouds moved over a series of Japanese Magnolias at the peak of their spring blossom growth. There was little, if any, petal drop from the old trees that stood taller than their accompanying houses. In full bloom displaying the pinks and purples blossoms from their first growth of a new season their colors dominated the street.
Cars hurrying to pick up kids at school slowed, runners slowed their pace turning their heads to the fertile plumage, and dog walkers allowed their charges to slightly stray when burdened by the beauty of spring.
There were other markers of spring along and near the street. Lawns mowed in front of homes bearing the patriotic colors of flags. Bradford pears brightening the horizon with white blossoms. Collections of small red buds and white plum shrubs and trees dotting  yards. Each color marking the powerful surge of spring as the earth renews itself in a splash vibrant color.