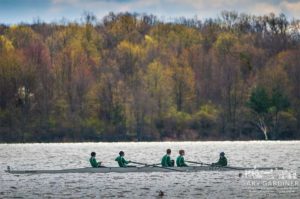 Twice a year I spend Saturday morning on the shores of Hoover Reservoir watching small groups of athletes compete in a display of their prowess with narrow boats, long-handled broad oars, and youthful enthusiasm in a Westerville Crew sponsored competition.
Such was today with a crisp cold greeting for the first race scheduled at 8 am on morning forecast for temperatures barely above freezing and a strong wind out of the southwest to blow broad clouds cross the sky to hide the warmth of the sun.
Despite the less than perfect weather, these athletes, their families, coaches, and friends had a spirited day of competition.
I had a great time and didn't get too muddy.
no images were found